Climate Change Primer
This climate change primer is intended to give you enough of the global warming science and climate change research that you'll feel comfortable teaching it to or discussing it with your students.
Solutions and actions are included, too.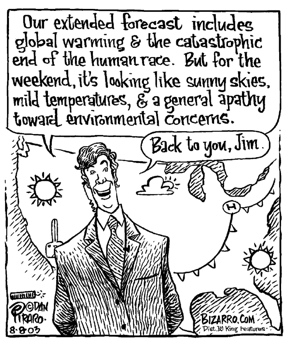 Used with permission
---

If there's no action before 2012 [when the Kyoto Protocol runs out], that's too late. What we do in the next two to three years
will determine our future. This is the defining moment.
—Rajendra Pachauri, Chair of the UN Intergovernmental Panel
on Climate Change, 2007
---
Learn the Science of Climate Change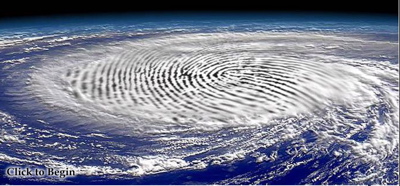 The Science of Global Climate Change and Human Influences

The most important part of any climate change primer is the science. Click on the thought-provoking illustration above to link to a series of free modules from MetEd on the science of global warming, climate change, and other meteorological topics. You will have to register, but it's well worth it (and free). For a series of profound home-made videos on the science behind the climate change emergency, check out the YouTube Channel (petercarter46) of GreenHeart's science advisor, Dr. Peter D. Carter.
Only Zero Carbon.org is a website that explains why we must get to zero carbon emissions as rapidly as possible to avoid climate change catastrophe.
Other learningful websites include:
Understand Carbon Feedbacks
"Wake Up, Freak Out — Then Get a Grip"
(might take a moment to download)


Wake Up, Freak Out - then Get a Grip from Leo Murray on Vimeo.

This 11-minute movie is worth every second because it explains carbon feedbacks (and the scariest feedback of all, the destabilization of methane hydrates — the methane timebomb) so clearly. Understanding carbon feedbacks is a crucial part of any climate change primer.

(If the movie gets choppy, simply hover your cursor over the "screen" until the controls come up, then pause it for a few moments.)


Numbers Count
A climate change primer would be incomplete without some math. Greenhouse gas (GHG) concentrations are everything when it comes to climate change, so understanding the numbers is extremely important.
the baseline for carbon dioxide or CO2, the most significant GHG in the atmosphere (after water vapour) = 280 parts per million (ppm) at the start of the industrial age


the CO2Now widget above shows the current level of CO2 in the atmosphere (click on the widget to visit CO2 Now for news on CO2 levels in the atmosphere)


how quickly it's rising = 2-3 ppm per year (which might not sound like much, but each tiny CO2 molecule acts as a little radiator and can remain in the atmosphere for as long as a thousand years)


the "safe level" of CO2 in the atmosphere (because dangerous carbon feedbacks have already begun) = less than 350 ppm, and probably closer to 300 ppm; indeed, if we aimed to get back down to 280 ppm, we would start making progress


the only safe target for avoiding climate catastrophe is ZERO: zero burning of fossil fuels and virtually zero carbon emissions, as rapidly as humanly possible (Rajendra K. Pachauri, chair of the Intergovernmental Panel on Climate Change, when asked for the April 2008 Indian edition of Reader's Digest whether it's possible to reverse global warming, responded: "Theoretically, yes. You will really have to bring down your emissions to below zero and find ways by which you can absorb existing carbon dioxide. Technologically, that's entirely possible.")
So, do the math with your (older) students:
Current level - safe level = how much CO2
needs to be removed from the atmosphere
Here's the problem to pose to them:
Current levels of GHGs are too high. And we keep increasing our emissions into the atmosphere (instead of dropping them). And we're accelerating the rate at which we're increasing these emissions. Carbon sinks are failing, so emissions are not being "absorbed" into the Earth's systems, especially the oceans (through the delicately tuned carbon cycle) as efficiently as they used to be. Plus, carbon feedbacks have begun in the Arctic (for example, higher temperatures thaw permafrost, releasing carbon dioxide and methane, which as greenhouse gases lead to further global heating, which leads to more thawing, and so on).




What needs to happen to regain the carbon and climate equilibrium that allowed the flourishing of agriculture and therefore human civilizations and cultures over the last five to ten thousand years (since the end of the last ice age)?
Know the Carbon Cycle!
The carbon cycle is a vital part of any climate change primer.
Global Greenhouse Warming.com has a simple yet thorough explanation of both the short-term and long-term carbon cycles.
But What Can I Do?
First, please pass on this climate change primer to others. Write to let us know what we should add to it.
Next, it's always election time somewhere in the world ... please do all you can to make climate change and renewable energy an important election issue — THE MOST IMPORTANT ELECTION ISSUE OF ALL TIME — for all candidates and governments, at every level.
But you don't have to wait for election time. You can write, fax, email, phone or visit your elected representatives right now. Share this climate change primer with them. When asked what would make a difference in Canada, one politician stated, "One hundred thousand people on Parliament Hill." The United States had its Million Man March in Washington, DC. What about a Million Grandchildren March?



You can start spreading a compelling vision of a sustainable future. Imagine a world based on a renewable energy economy. It would be a world that is safe, clean and healthy (no more pollution), peaceful (no more resource wars) and equitable (no one owns the sun, wind, tides or Earth's core heat).
Finally, here's what a wonderful friend of ours, Ricci O'Reilly, did when he learned about global climate change. He was moved to write a song. He made a video. He posted it on YouTube. He's getting responses from around the world! Imagine your students doing something like that. (And don't think you have to know how to do it first; they'll teach you!)


Understand the Urgency of the Climate Change Emergency
According to the Worldwatch Institute's State of the World 2009 report, Into a Warming World, "global emissions of carbon dioxide must reach a peak in less than 10 years and then begin a rapid decline to nearly zero by 2050 to avoid catastrophic disruption to the world's climate."
Christopher Flavin, president of the well-respected US-based environmental think tank, explained that "2009 is a pivotal year to deal with climate change. Humanity will face grave danger if we don't move forward now."
Emissions of carbon dioxide will actually need to "go negative" — with more being absorbed than emitted — if we want to avoid unacceptably dangerous temperature increases.
Civil society is being called on to "provide unrelenting leadership" if we want to achieve the necessary reductions in greenhouse gases.
For a deeper look at the scientific research that is highlighting the global climate change emergency, visit Climate Change Emergency Medical Response — a website for health care professionals that will also help educators understand the urgency.
Please share this Climate Change Primer with other educators.
Just copy and paste this link into an email message to your colleagues, administrators, trustees and professional organizations:

http://www.greenhearted.org/climate-change-primer.html

Here's a link to the educational rationale
for making global warming and renewable energy education
the overarching focus of curriculum:

http://www.greenhearted.org/global-warming.html

Thank you.


Go from Climate Change Primer to Global Warming
as the Overarching Focus for Curriculum

Visit GreenHeart's Compassionate Climate Action Blog

Return from Climate Change Primer to GreenHeart Education Homepage