GREEN CURRICULUM MAP
Here's a "green curriculum map" to illustrate what GreenHeart's Green Curriculum Model looks like. It shows the environmental / sustainability focus for each age/grade level, as well as the following essential integrating themes:
These general themes, when underlying the more specific age/grade learnings that build on each other, together contribute to an integrated and holistic education today that ensures a healthy future for our students and the world they will live in.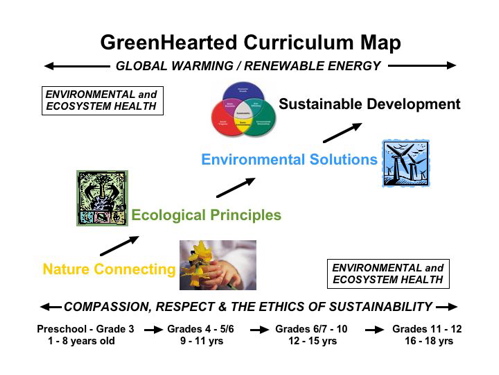 GreenHearted's Green Curriculum Model is adaptable anywhere, in any school system. (In fact, I initially conceived it for an International Baccalaureate kindergarten to grade 12 school.)
It offers a paradigm shift or new lens, not an overhaul or all-new curriculum. This means it can be urgently and immediately implemented, which makes it suitable for the planetary emergency we find ourselves in!
This Green Curriculum Model offers a breadth and depth of new ways to cover mandated learning outcomes while increasingly placing learning about Nature, the Earth, environmental solutions and sustainable development at the heart of our teaching.

It is not meant to be a bunch of "add-ons" (which add to our workload as teachers). Anything new, though, can feel like an add-on, so this is where courage might come in — the courage to subtract those things you're teaching that are no longer relevant and don't contribute to a viable and healthy future for our students.

So go ahead. For the sake of the future, give yourself permission to be a hero!


Go to Nature-Bonding for Preschool/Kindergarten to Grade 3
Go to Ecological Principles for Grades 4-5/6
Go to Environmental Solutions for Grades 6/7-10
Go to Sustainable Development for Grades 11-12
Return from Green Curriculum Map to Greening the Curriculum