Integration as a Sustainability Teaching Tool
The reductionism inherent in our education systems must be countered with teaching strategies that imitate life

Integration of the themes of
ecological ethics
global warming and climate change
environmental and ecosystem health
Nature bonding
ecological principles
environmental solutions, and
sustainable development
demonstrates to students that life and learning are connected and holistic, like "the real world" outside the four square walls of school.
See below for suggested ways to integrate environmental education and sustainability learning into all subject areas.
---

I think H. G. Wells had it right when he said that we are in a race between education and catastrophe. This race will be decided in all of the places, including classrooms, that foster ecological imagination, critical thinking, awareness of connections, independent thought, and good heart. – David Orr

---

Why is integration so important in a green curriculum? What are the dangers of reductionism?
A main lesson of ecology (indeed, the essential science of ecology and sustainability) is that everything is interconnected. But the longer our students stay in school, the more they are "subjected" to disconnection — taught, through subject specialization and reductionism, a worldview in which everything is disconnected. They can't see the real world "forest" that is life for all the homework and marks given out as "trees."
Simply teaching the phrase "everything is interconnected" doesn't work if our students don't see and experience everything as interconnected. We fragment the story of life for our students by ringing bells to change subjects, or by stating, "Now it's time for math, boys and girls." (Don't numbers show up throughout our school days and our lives?)
This separation of subjects and fragmentation of learning makes life less intelligible to students, further disconnecting them from the rest of Nature (which doesn't ring bells, switch subjects, or suddenly turn to math at 10 o'clock).
As Jane Goodall explains, Nature (if taught at all) is just objectified in education — turned into things to study, not to become part of.
---

In direct opposition to the trend in mainstream culture toward greater specialization, we need to actively promote the generalist — the one who sees connections and makes links across different disciplines.
– Helena Norberg-Hodge

---

Our students learn some good things about the environment in school. But the rest of the school community (their other teachers, administrators, staff, parents) must reinforce and value the students' integration of that learning into other subject areas.
Otherwise, our students won't learn that the unsustainability crisis is one that demands changes to their education, to the EuroAmerican lifestyle, and to the Western system of economics.
Integration in education for sustainability has to be done by the students themselves (to preserve childhood's holistic and pattern-based perception of life).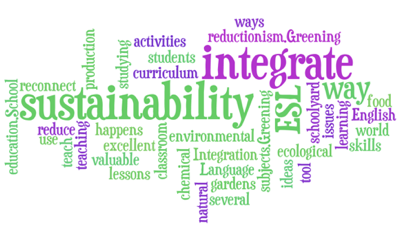 As their teacher, you can help your students to do their own integrating by
making time for integrative reflection, perhaps at the end of each class or school day
(As explained by Jenna Glock, Susan Wertz and Maggie Meyer in Discovering the Naturalist Intelligence: Science in the Schoolyard, "asking students to reflect on their experiences is one way to determine whether learning has taken place.")


interspersing your teaching with integrating questions, such as "How can what you've learned today (this period) best serve the Earth and the future?"


setting expectations that students will make and express connections between their different learnings or courses (for example, open-ended test questions, Venn diagram assignments, one assignment for two different courses)


using story and picture language (analogies and metaphors) along with concept language when introducing something new, so students have something they're already familiar with to connect their new learning to


modelling through collaboration with other teachers to create cross-disciplinary units


asking parents and principals to emphasize children's holistic learning processes, rather than subject-specific marks


"ecologicalizing" as many of your lessons as possible


weaving the Earth, the rest of Nature, and a healthy future throughout your teaching
---

Teachers will be able to identify points of connection between these themes [of education for sustainability] and the content prescribed in their own subject areas. While some subject areas lend themselves more than others, all have a responsibility to contribute.
— Education for Sustainability, International Schools Association

---
Learning It By Living It — Integrated Curriculum Opportunities
Educating for sustainability offers innumerable opportunities for integrating ecological literacy and an environmental ethic into the curriculum. This integration shows students, in a holistic way, that we value the Earth and their future.
No matter what our subject, if we are not teaching consciously and deliberately FOR sustainable development, then our "hidden curriculum" is, by default, teaching for UNsustainable development.
Click on the links below for integration ideas in each subject area (as they become available).
Green Schools model how core ecological concepts can be applied to create sustainable human communities. If your school is becoming a Green School,
sustainable improvements in your facilities
will provide a unique opportunity to take an experiential "place as pedagogy" approach to teaching.
The following subject area ideas will help you integrate a "Learning It by Living It" approach to teaching, through real world examples of applied sustainability, especially as they relate to your school. (You will have to come up with specific examples of how your own school facilities "work" in sustainable ways and utilize green practices on a day-to-day basis.)


Economics


Science


Biology



Physics


Environmental Studies


Mathematics


Computer Science


Information Technology / Business



Pointing out genuine, authentic connections between the existing curriculum and education for sustainability will take curiosity, willingness and independent thinking on our part,
along with rich group thinking amongst our like-minded and like-hearted colleagues.
If there's a curriculum area I've left out, please send us your ecological / sustainability integration ideas for that subject and I'll include them here.
Return from Integration to Greening the Curriculum

Go from Integration to Transformative Tools for Sustainability Education

Go to GreenHeart Education Homepage