Greening the Holidays at School
My mind can't help wandering back to the horrifying November 2008 story of a New York chain store employee being trampled to death by a mob of stampeding bargain hunters on "Black Friday" (the day after Thanksgiving in the United States and the opening of the Christmas shopping season).
In order that his senseless death may have some sort of meaning, I am dedicating this webpage to that young man, Jdimypai Damour. May his soul rest in peace and may his family know that many, many hearts go out to them for their loss.

Below are some ideas for teaching sustainability in transformative ways by "greening" the holidays along with your students (or children at home). And I'm not just talking about colouring the holidays green — I'm talking about dipping the holidays into a vat of natural dye until they are drenched in green!
Life Cycle Analysis of Christmas (and Other) Presents
Take time to discuss or reinforce the concept of needs versus wants. Many people forget the difference at "giving" times of the year. Help children see the connections between what they receive (and quickly discard) and the living conditions of their brothers and sisters — of all species — around the world.


---

How can we get our children to be satisfied with fewer and less expensive gifts when their friends are getting lots of (sometimes expensive) gifts?
You can't expect kids to go cold turkey. I have found that kids are somewhat open to the understanding that this is somebody else's birthday that we're celebrating. If you can make the holiday joyful enough with enough points of real pleasure, parties, hikes, special activities, spending time together... if you can do enough of those things, then the focus won't be so single-mindedly on how big the pile under the tree is.
— Bill McKibben, Hundred Dollar Holidays
---

This is also a great time of year to teach about life cycle analysis! As many children in different parts of the world ask for and receive lots of new "stuff" for Christmas (or other holidays), help them become aware of the environmental, social and economic impacts of their gifts.
Talk to children about where their gifts (those they give as well as those they receive) come from and go to. Extraction, production, distribution, consumption, and disposal (the "materials economy") all have their costs and benefits. But this is a linear system in a finite world ("cradle to grave"), and hence unsustainable.
Introduce the cradle-to-cradle life cycle, where waste = food for the next product, and Nature is regenerated by our "industrial" processes. (Visit this short primer to learn more about the cradle-to-cradle concept.)
The U.S. Environmental Protection Agency has a series of three posters (click the link to download), showing the life cycle of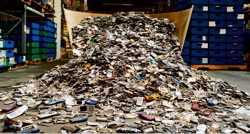 Annie Leonard's The Story of Stuff is a 20-minute movie that teaches where things come from — and end up. Leonard is an American sustainability scholar, and the film was created from an American perspective (translations into several languages are in the works). If you haven't yet seen this film, be prepared to have your view of the world rattled somewhat. (Suitable for secondary school students, and perhaps those a bit younger.)

For older students, check out Consume This! Buying That Matters.
A learningful way to teach the concept of sustainable development during this time is to have each student bring a gift from home, perhaps the favourite one they received last Christmas or sometime during the previous year for a birthday or another holiday. (Let's ignore, for now, Annie Leonard's statistic about how many new purchases are thrown out within a few months!) If the gift is too big to bring to school or was a service gift, they can bring a photograph or illustration of it, or simply tell a story about it.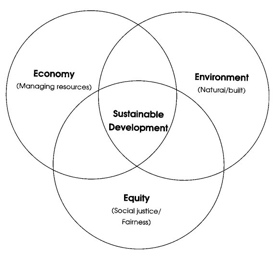 Have each child draw a triple Venn diagram with three large overlapping circles, on their own piece of paper or on the board. Label one circle Environment, one Social Equity, and one Economy.
Next, as students start trying to picture where their gift came from, and where it will end up, have them write the answers to questions that arise in the appropriate circles or intersections. For example,


What natural resources were used to produce this gift?
Are they renewable or recyclable?
How far did this gift travel? Was it locally made?
What is its "carbon footprint"?
Who made this gift? Who transported it? Who sold it?
Were they paid a fair living wage?
How much did this gift cost?
Was that a fair price for the buyer (or Santa)? What is its cost-per-use?
What will happen to this gift when it's no longer needed/wanted?
Is there a price to pay for getting rid of it? If so, who will pay that price?
How much did this gift truly cost?
(Encourage students to watch Ed Burtynsky's Manufactured Landscapes if they don't know the answers to these last questions.)
Answers that require research could turn this into a longer-term project.
A similar activity is written up in the Grade 5-8 Education for Sustainability Concepts section of National Sustainability Education Standards – Version 2, from the US Partnership for Education for Sustainable Development, under 3.2 Collective Action: "Designing a Sustainable System - Using a Venn diagram, students log environmental, social, and economic impacts of a service or system that they use (e.g., transportation of food product). Then students brainstorm a more effective "cradle to cradle" life cycle for the system or product that is effective in terms of reusing or recycling technical nutrients and returning biological nutrients to nature."
Discuss Gifting Alternatives
Take the time to discuss questions, feelings, needs and concerns that arise. For example, this might be the first time some students have discovered their "social conscience" — and it can be disconcerting, especially if these glimmers of the Golden Rule at the global level contrast with their families' values and holiday traditions.
Discuss ideas the children have for making their celebrations and gift-giving kinder to the planet, and to others around the world and in the future.
Service coupons
Charitable donations in the recipient's name
Homemade gifts
Fair trade gifts
Handmade reuseable wrapping "paper" or gift bags
Plants or homecooked foods
Share your students' ideas in a school e-newsletter.

I wish you, your students and your family a simple holiday season filled with love, peace, fun and kindness — for all.


Return from Greening the Holidays at School
to Greening School Behaviour

Go to GreenHeart Education Homepage