Student Environmental Award
Schools offer academic achievement awards, leadership awards and sports awards. Why not a student environmental award to recognize a student's outstanding contributions to school greening and dedication to environmental issues concerning
the school and community?

A teacher at a nearby school asked me what criteria I would suggest for choosing the winner of a new environmental award they were going to start bestowing on a deserving student each year.
Of course, I thought! Why not a student environmental award? We have awards for reading and sports and academic achievement and social contributions. Why not one for students who care about school greening and environmental issues?
And if you've implemented a Green School initiative at your school, creating a student environmental award will help to integrate your initiative with other school values and programs.
Criteria for the Student Environmental Award
Here are the criteria that I suggest:
Exhibits the naturalist intelligence. (This is an intelligence that is rarely rewarded in school. See Naturalist Intelligence for information.)
Demonstrates great interest in Nature, the environment, conservation, stewardship, ecology, and/or sustainability and sustainable development. (These kids really stand out, since so many young people are into their electronic gadgets and consumerism these days.)
Exemplifies enthusiasm, energy, initiative, and commitment toward the natural environment, and serves as an inspiration to other students. (May or may not show leadership skills, although evidence of growing leadership skills would be a big plus.)
Has perhaps put their interest into action through an ongoing campaign or one-time project (of age/grade-appropriate scale) that has raised environmental awareness or led to environmentally friendly change in the student's class, school or community.
Aligns their environmental beliefs with their actions and behaviours, at school and at home.
If you have an award of this kind at your school and want to suggest some further criteria, please contact us.
---

Our winners represent the future of environmental innovation. We're proud to recognize their incredible work, and thrilled to have their invaluable help in taking on the environmental challenges of today and tomorrow.
— Lisa P. Jackson, United States Environmental Protection Agency Administrator
---

In the United States, the President's Environmental Youth Awards program gives "special recognition and a presidential plaque" to winners who apply by sending in a description of their projects. This program and others like it sound wonderful — for high-achieving, self-directed students and those who are supported by their parents and teachers.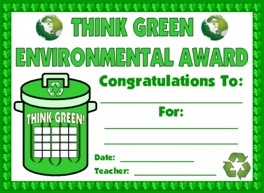 Yet think about the impact that an annual school-based award could have on a shy child who doesn't shine in any way other than they care about Nature, about the environment, about the Earth. Perhaps this child isn't a doer, but their essence and their "being" are an inspiration to fellow students.

The student environmental award will be an opportunity to honour and celebrate any child who epitomizes the values and goals of your Green School initiative, and who cares deeply about the planet.
The student environmental award winner probably ought to be chosen through nomination by teachers (to eliminate the "cool" factor). Teachers and other school staff can watch to see:
who takes the lead (or works the hardest without need for recognition) in your school's recycling program
who is your most dedicated student gardener
who picks up litter off the school grounds at recess, without being asked
who started a student green club
who is always the first volunteer to help out with an eco project
who loves and learns about animals and Nature and demonstrates their love and learning through art, poetry, theatre or dance
---

We all share in the responsibility for protecting the environment. Award recipients are shining examples of environmental leadership....
— Prince Edward Island Lieutenant-Governor Barbara A. Hagerman
---

Return from Student Environmental Award
to Greening School Behaviour

Go to GreenHeart Education Homepage