Sustainability
Student Representative
This page is dedicated to Jonny Wookey, a wonderful young man — and the first Sustainability Steward at Upper Canada College in Toronto — who died suddenly and tragically while on a bicycle trip to celebrate his graduation from university in 2012.
Many middle schools and secondary schools have a student council of some sort. It might be called a student government, a student parliament, or a board of stewards. More and more of these student councils are now including a sustainability student representative.

What better way to include the student body in a school's journey to sustainability than to have a student representative who participates in and takes responsibility for greening efforts at all levels?

---

Students who participate in student council tend to carry the pride and learning experience with them through life and become responsible and active members of their community. Being a member of the student council at school not only teaches leadership skills, it inspires and empowers students to make a difference. [We] encourage schools to add a student council position at school that puts a student in charge of the green activities. The student and the position will constantly remind the school, parents, and students of the global and local difference they are making.
— Grades of Green
---

What is a Sustainability Student Rep?
There are many possible names for this student council position, including:
sustainability student representative
sustainability steward
sustainability ambassador
minister of sustainability
green rep

And while the exact responsibilities will be different at each school, the role of a sustainability student representative is to be the student body's sustainability champion, ensuring that student perspectives are considered during a school's sustainability journey and that students are involved in a school's greening efforts.

Resources for Your School's Sustainability Student Representative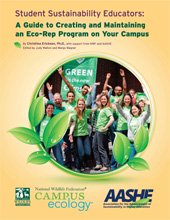 Student Sustainability Educators: A Guide to Creating and Maintaining an Eco-Rep Program on Your Campus, by Christina Erickson, with support from AASHE and NWF
University of British Columbia's Sustainability Ambassadors Program
Grades of Green Five Tips for Greening Special Events
---

Respect for the position of Sustainability Steward had to be gained, for sure. Sustainability is a topic often ridiculed and so I would say that it takes a strong person to truly make the position work and be useful. You need to have a tough skin to remain above petty jokes or efforts to sideline what you are working on in order to gain that respect.

Once people understand that sustainability is in their best interests and can actually help them, then you will get more support. Basically you have to be political, while sticking to your ideals and goals.

One thing that I really appreciated was how the position required me to interact not only with students and administration and staff, but also with parents and other people outside of the school.
— Graham Clark, former Sustainability Steward, Upper Canada College, Toronto
---

Suggested Responsibilities for a Sustainability Student Rep
A school's student rep holding the sustainability portfolio could:
contribute to making their school a healthy and sustainable learning community by being the voice of students on their school's sustainability/green team
act as an advisor to the student council on how to make its events more sustainable
be an ex officio member of the school's Earth / Environment Club
advocate on behalf of students with respect to their school's environmental and other sustainability-related policies, giving students an intergenerational say in the school's planning, policy setting, and decision making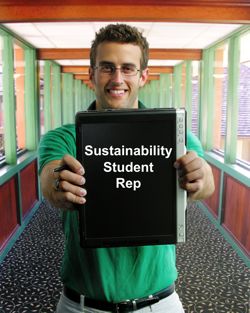 keep sustainability initiatives high on the school's agenda
contribute students' perspectives to sustainability course / curriculum development
provide "greenspiration"
speak up for sustainability principles at meetings and during event planning
help make school events environmentally friendly, by developing a Green Events checklist (which might include: no bottled water,  no throwaways, visible recycling receptacles, etc.)
help ensure that school products are sustainable, through "green" purchasing/procurement (for example, fair trade sportswear for school teams)
help foster sustainability-friendly school community traditions (for example, promoting sportsmanlike stewardship of athletic areas, such as a quick, whole team litter "sweep" after each practice, match or tournament — home and away — to set an example)
remind key stakeholders of the principles of sustainable development and look for ways to educate fellow students about these principles, so that sustainability becomes a part of students' lives as they learn how to contribute to a sustainable future
use media of all sorts to promote sustainability:
• notice boards, bulletin boards or posters
• articles in the school newsletter / newspaper
• display booth at school events
• speeches at assemblies
• publicity for school greening and sustainability initiatives

be the "face of green" during school assemblies and other events
help organize Earth Day and Environment Week events
fundraise for school greening initiatives
---

My advice? It is a great position, but really will only be effective with the right person. That person has to have a strong desire to create lasting change. It is very important that this position have the support not only of the faculty who works with the student council but also other staff and teachers, otherwise this person will always be working from the outside. At the same time, a student council sustainability representative's work cannot be done for them! It should be stressed that they will be a conduit or link between the administration and the student body, one that will be supported to create that lasting change.
— Graham Clark

---
Adding a sustainability student representative position to the student council at your school is an important way to demonstrate the school's commitment to greening the heart of education,
in all its forms.
Return from Sustainability Student Representative to Greening School Behaviour

Go to GreenHeart Education Homepage